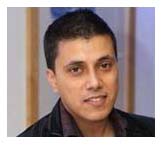 I'm Ajay Dhunna, AKA SEOGuy, a Freelance SEO Consultant & PPC Consultant based in Birmingham, UK. I specialise in various forms of Online Marketing primarily focusing on Search Engine Optimisation, Pay Per Click, Conversion Rate Optimisatio, and Social Media Marketing.
Having come from a web development background, by combining my web development skills and my online marketing experience, I am able to provide sound consultancy level advice, guidance and strategic directions to my customers in terms; What they should be doing within their Online Marketing strategy, Why they should be doing it as well as How they should go about executing their marketing plan.
On all campaigns I setup, I make it a priority to ensure the Analytics and Reporting are setup correctly, so that the campaign performance can be measured accurately to ensure we are always meeting our key objectives.
All in all, I'm an easy going type of lad, who lives, sleeps and eats the world of WWW!